Pyar Bhari Shayari For Instagram Caption, Download Free Image
Shayari is the best way for someone to express your love and care, and Shayari on Pyaar is also perfect for your life partner, for your friends, for your family, or for your special person in your life, which means a lot for you in life. You can also make your love life more romantic with the help of these Romantic Shayari or Pyar Bhari Shayari.
When it comes to expressing love, in your relationship to please your partner, you should use Pyar Bhari Shayari, which is very much useful in your relationship.
You may feel relaxed because you have come to the right place where you are free images for Pyar Bhari Shayari which are full of loveable lines and you will get to see a lot of Pyar Shayari, Pyar ki lines, pyari Shayari, which I hope you will love a lot. To share your WhatsApp, share it as a Pyari Lines for Facebook, and share it as a Lovely Instagram Caption.
So Let See Our Best Pyar Bhari Shayari in Hindi and Pyari Shayari Collection.
Pyar Bhari Shayari Hindi Mai
थोड़ा काजल लगा लिया एक बिंदी लगा लिया…
खुद तो सज गए हुजूर पर हमें तबाह कर दिया..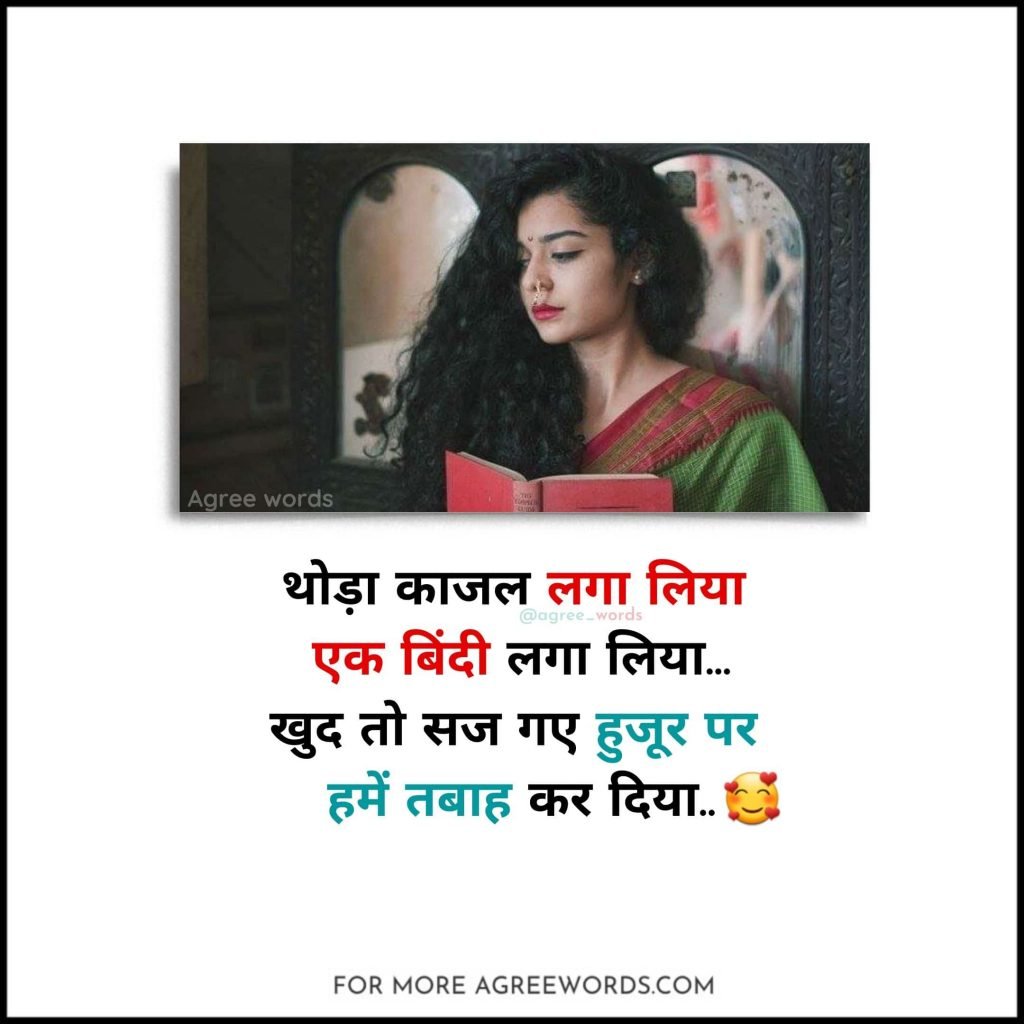 किसी के लिए किसी की अहमियत खास होती है…
किसी एक के दिल की चाबी हमेशा दूसरे के पास होती है…
पैरों में पायल पहनकर जब वो अपनी हवेली में…
टहलती है तो चाँद तारे भी देखा करते हैं…
उसे रोज-रोज खिड़कियाँ बदल-बदल कर…
हिंदी शायरी प्यार भरी
पता है तुम्हारी और हमारी मुस्कान में फर्क क्या है…
तुम खुश हो कर मुस्कुराते हो और…
हम तुम्हें खुश देखकर मुस्कुराते हैं…
मेरी शायरियों को खामोशियों से पढ़ रहा है कोई…
पता नहीं कौन है पर…
गुमनाम सी मोहब्बत कर रहा है मुझसे कोई…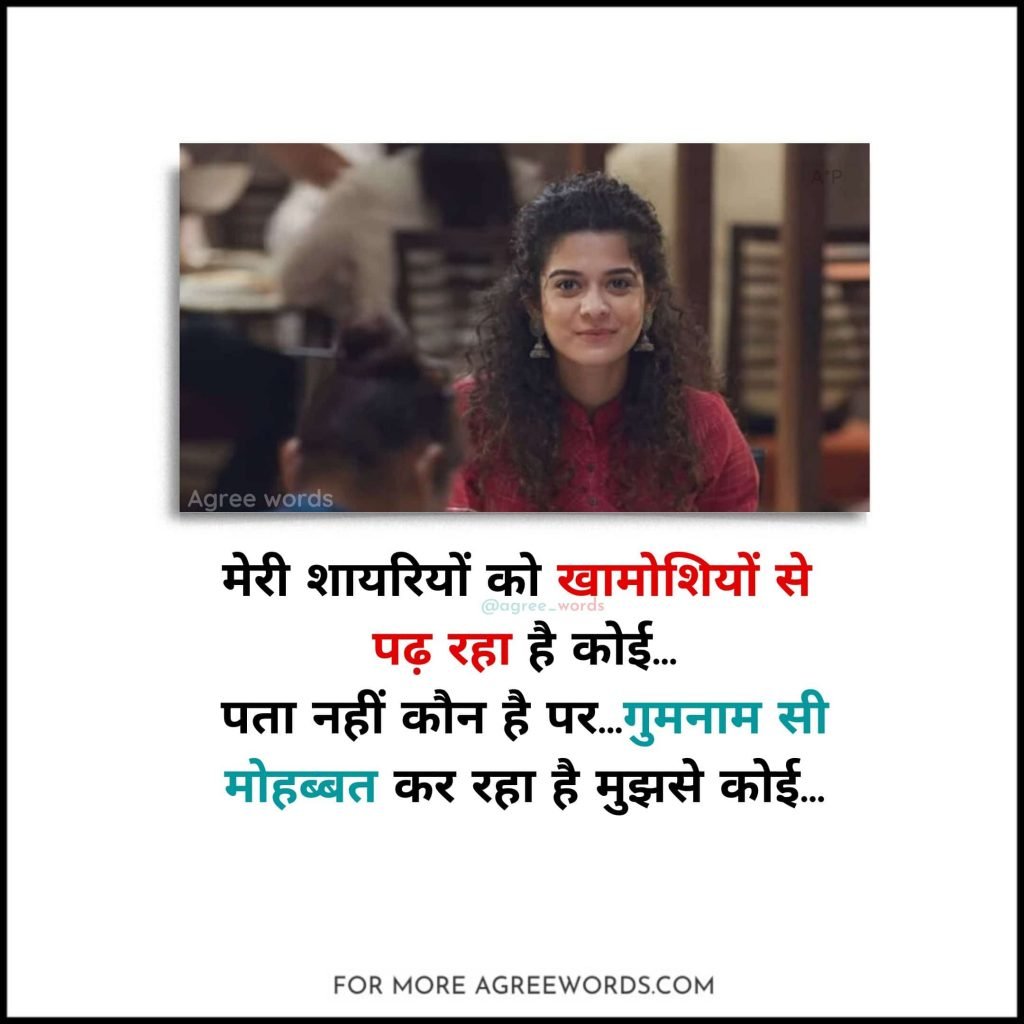 Mohabbat Shayari 2 lines
दिल क्यों खिंचा जाता है उसकी तरफ मेरे खुदा…
क्या उसने भी मुझे हासिल करने की दुआ मांगी है…
Love Bhari Shayari
क्या ऐसा नहीं हो सकता हम प्यार मांगे…
और तुम गले लगा कर कहो और कुछ…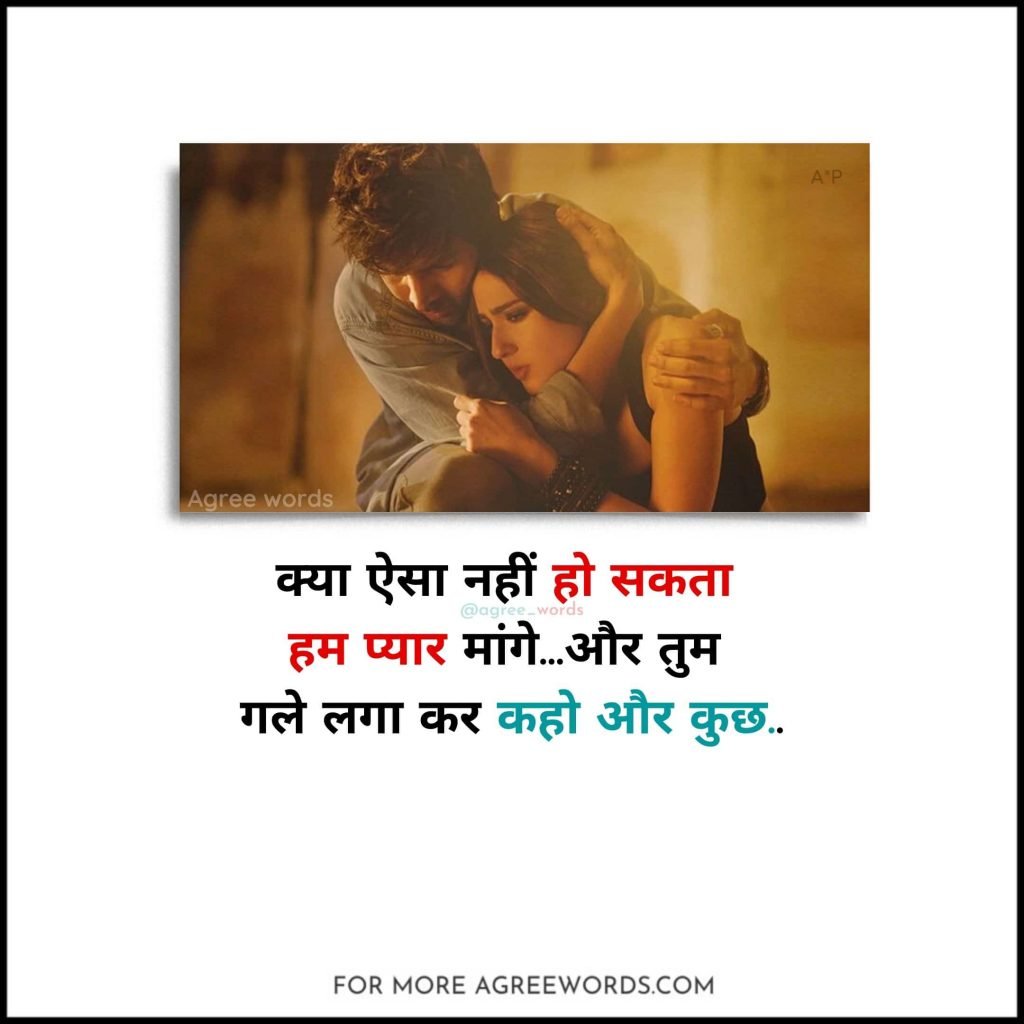 ना खूबसूरत ना अमीर ना शातिर बनाया था…
मेरे रब ने तो मुझे सिर्फ तेरे खातिर बनाया था…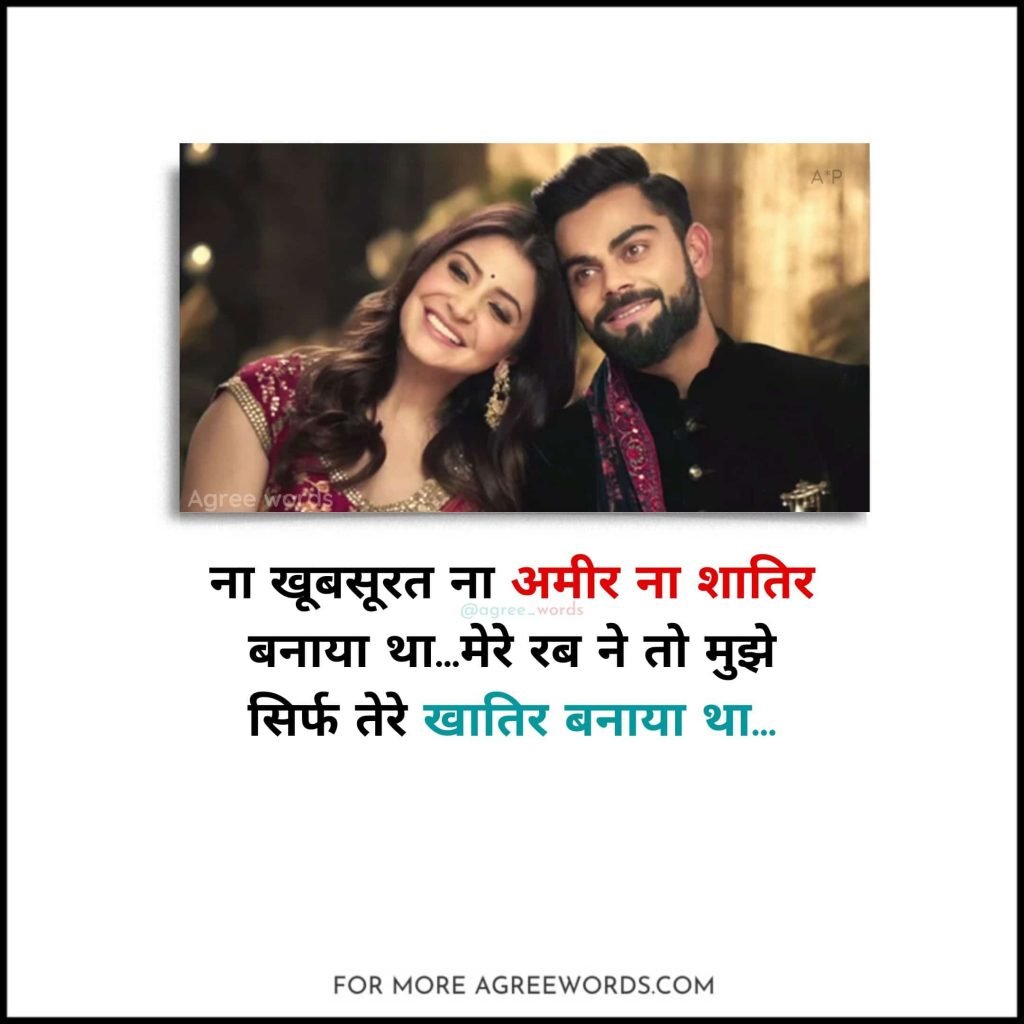 कितनी खूबसूरत हो जाती होगी ये जिन्दगी…
जब दोस्त, मोहब्बत और हमसफर एक ही इंसान हो..
Hindi Pyar ki Shayari
Hum Sirf Dosti Se Khush Thi,
Usne Gale Laga Kar
Baat Hi Bigaad Di.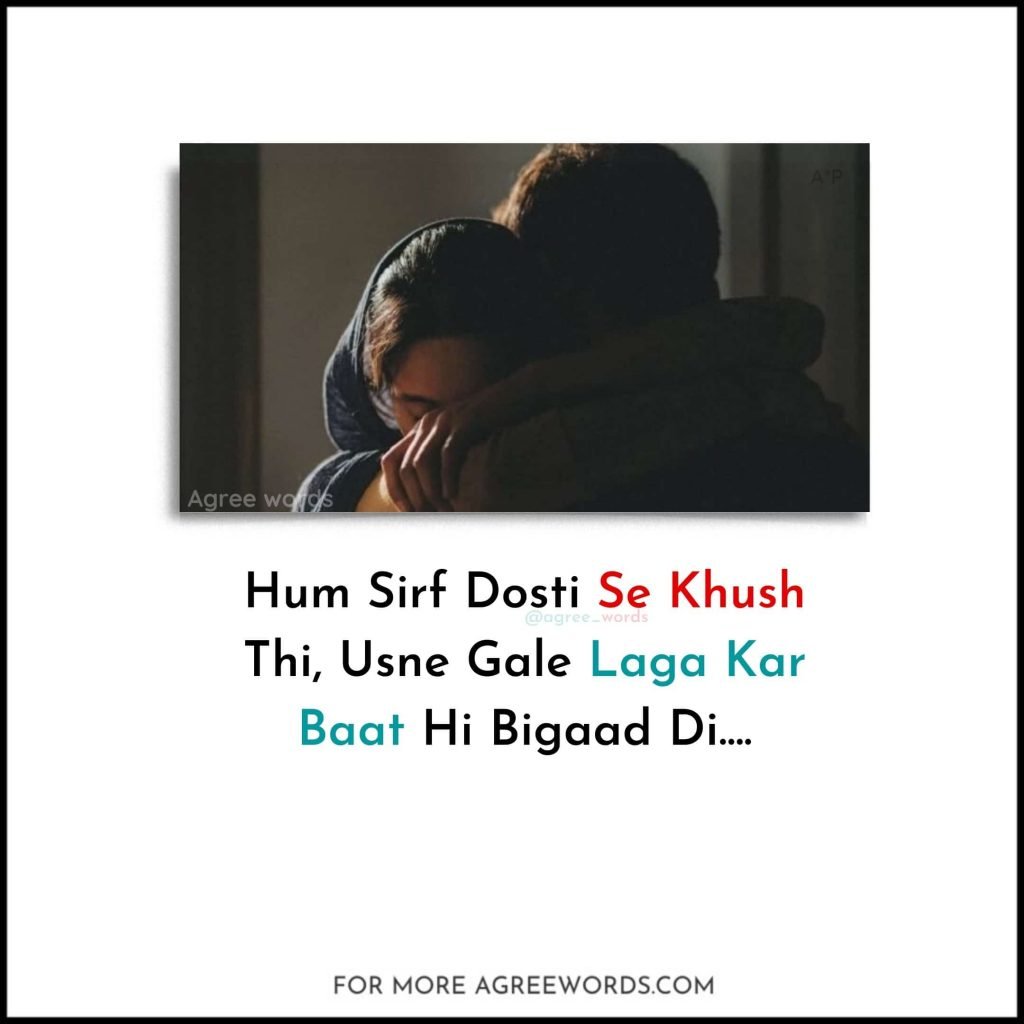 Jude Hue Sabse Hain Hum,
Lekin Dube Hum Sirf Tujhme hai.
Tumhe Dil Mein Rakhta Tha!!
Thoda sa Dil hi rakh Lete.
प्यार की शायरी हिंदी में
जो छोड़ गए वो बोझ थे ,
जो पास है वो खास है।
कभी कभी नए लोग,
पुराने से अच्छे मिल जाते है।
फ़िक्र तो होगी ना तुम्हारी
एकलौती मोहब्बत हो तुम मेरी
वो हस्ती गयी
मैं दिल हारता गया।
तुम्हे प्यार करना सही है या नहीं पर
इस एहसास को जीना अच्छा लगता ह।
सूरत देख कर नहीं
सादगी देख कर पिघलो।
New Pyar Bhari Shayari in Hindi
Sunne Wali Toh Bahut Mil jayegi,
Par Smjhne Wali Chahiye Yaar.
Jo Apki Khushi ke Liye Haar Maan Le
Aap Uss se Kabhi Jeet Nhi Sakte..
Usney Uhhi Kaha Tha Tum Mere ho!!
Hum Kisi Aur Ke Hue Hi Nhi.
Meri Zindagi Mein Tumhari
Jagah Koi Nhi Le Sakta
Thank you for Reading!